Product Description
Aibocn 12000mAh External Battery Power Bank Portable Charger with Lightning Cable
Upgraded high capacity & Lightweight design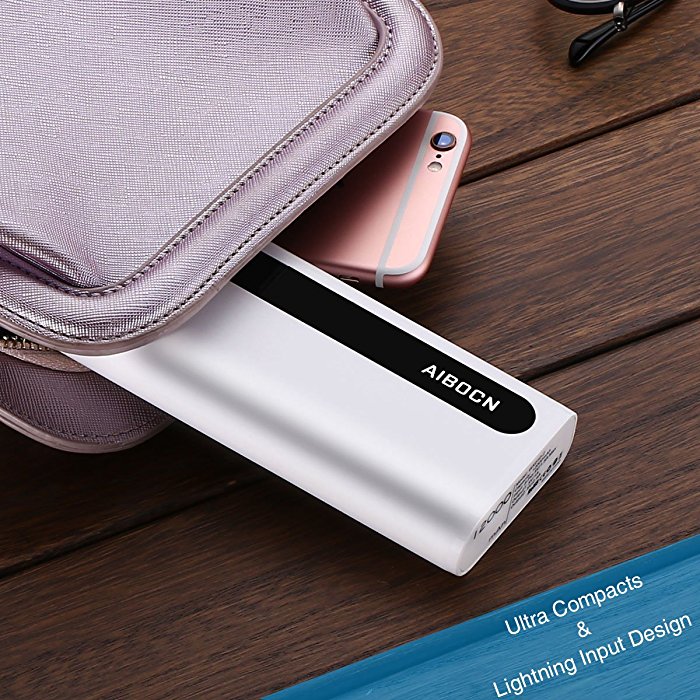 Distinguishing Features:
12000mAh high capacity external battery pack with dual output(2.4A Max) design for 2 USB devices to charge at the same time.
The 8 pin lightning portable power bank comes with an MFi certified lightning cable.
The power bank has emergency LED flashlight function which is helpful in case of need.
The anti-slip surface enables you to hold the charger in hold more comfortably.
Perfect Protection: multiple protection system guarantees the safety of your devices, preventing overcharge, overdischarge and short circuit.
Compatible with all USB-based devices like most popular smartphones and tablets.
Fast Charging Technology:
This Aibocn lightning power bank features 2.4A(Max) output current, which can charge your USB devices very quickly. The fully precharged power bank can charge an iPhone 6s more than 4 times.
Product Specification:
Brand: Aibocn
Capacity: 12000mAh
Output: 2.4A Max
Color: Lightning White
Package Dimensions: 6.7 x 3.9 x 1.2 inches
Multiple Protection System
The protection stops malfunctioning problems, such as overcharge, overdischarge, overheating and short circuit. Your worry-free use and the long lifespan of both your devices and the powerbank is guaranteed due to the intelligent protection. Once any problem accidentically occurs, the powerbank will automatically shut down for safety protection.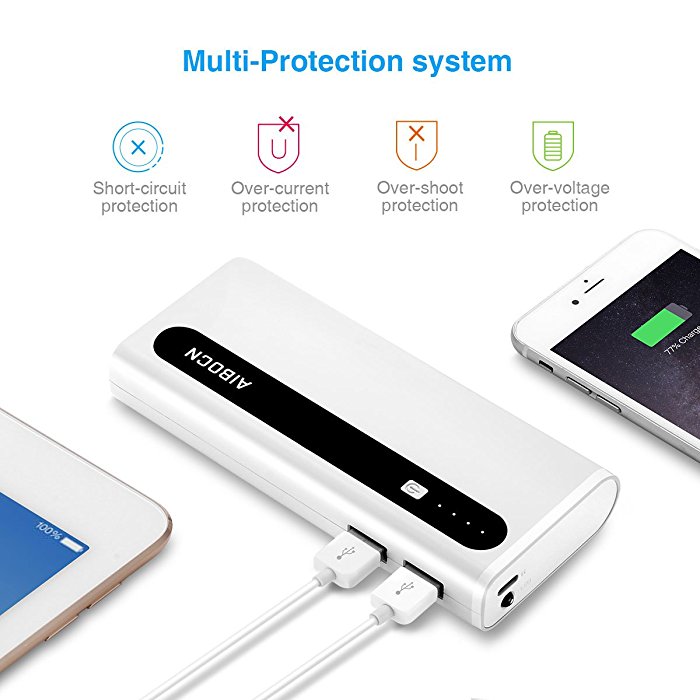 Package
1 * Aibocn Lightning 12000mAh External Battery Power Bank
1 * Lightning Cable(MFi certified)
1 * User Manual
Wide Compatibility:
— Use the included cable, your original cable or a third-party certified cable (e.g. MFi).
— Most popular smart phones, e.g. smart phones from Apple, Samsung, Google, HTC, Nokia, LG etc.
— Most popular tablet, e.g. iPad, Kindle, Samsung Galaxy, Google Nexus 7 etc. (Please use your original cable)
Warranty Policy:12 months' worry-free product guarantee & 30 days' refund unconditionally for every purchase from AIBOCN.Professional technical support, efficient and always satisfying customer service all the year round.