Product Description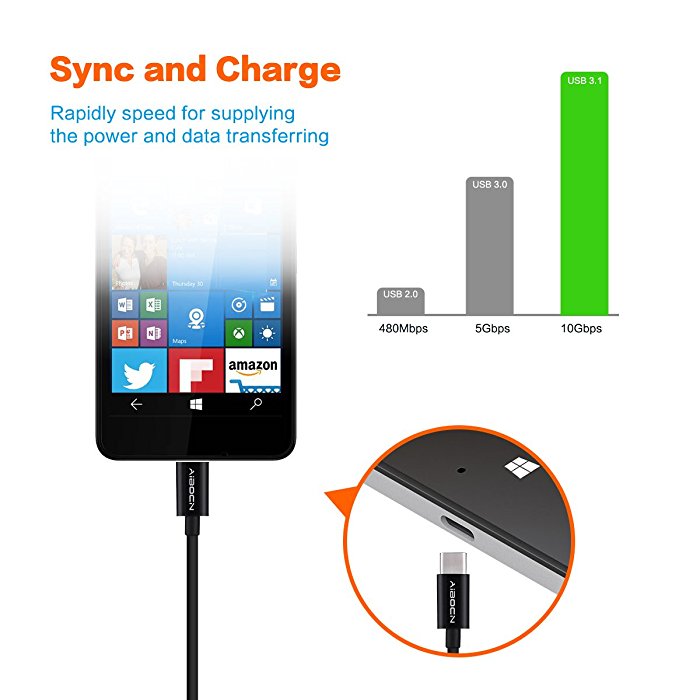 USB 3.1 Type C to Type A Cable:
This USB 3.1 Type C to USB 3.0 cable has fast charging speed, up to 10 Gbits per second for most convenient charging.
The newest USB 3.1 Type C to Type A cable has greatly improved fast charging speed compared to USB 3.0/2.0 cables.
The USB Type C charging cable has relaible quality to ensure better connection without signal loss.
The cable features a user-friendly reversible USB Type C connector for easy USB connection.
The USB Type A to Type C cable is widely compatible with various USB Type-C devices, such as Macbook, Chromebook Pixel, Nexus 5X, Nexus 6P, Nokia N1 Tablet, Galaxy S7/S7 Edge, OnePlus 2, LG G5 and so on.
Product Specification

Brand: Aibocn
Color: Black
Length: 4 Feet
Interface: Type C to Type A
Compatible Devices with USB-C

* Samsung Galaxy S7 / S7 Edge
* LG G5
* 2015 MacBook with 12″ Retina Display
* 2015 Google Chromebook Pixel
* HP Spectre x2 / Pavilion x2
* Nokia N1
* OnePlus 2
* Lenovo Zuk Z1
* Google Nexus 5X / 6P
* Google Pixel C
* Lumia 950 / Lumia 950XL
Reversible Type C Connector
The reversible Type C connector provides great conveniences for your USB connection. The reversible USB A to USB C male cable enables you to plug and unplug the USB connector more freely without the need for correct USB orientation because both sides work. The Type C USB 3.1 reversible USB cable is highly durable with over 10,000 times' bending test for the quality.
Notes:
1. Connect the USB A connector to the adapter first, then connect the cable to the compatible Type C device.
2. The cable is NOT designed to connect a computer, smartphone or tablet with USB Type-C to USB peripherals with Type A( such as an external hard drive).
3. The cable is NOT compatible with the USB Type C port on Apple USB-C Digital AV Multiport Adapter. It works when connected to the USB Type A port on the Multiport Adapter.
Warranty Policy:
12 months' worry-free product guarantee & 30 days' refund unconditionally for every purchase from AIBOCN.
Professional technical support, efficient and always satisfying customer service all the year round.