Product Description
Aibocn 10000mAh Power Bank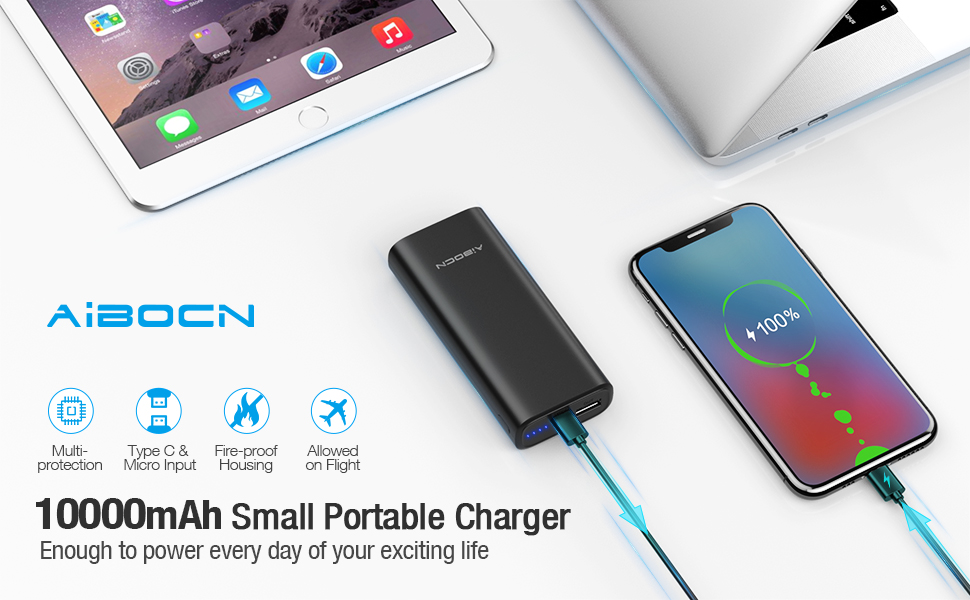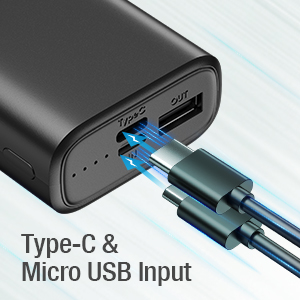 Distinguishing Features:
【Dual Input Port】 The exclusive Micro USB and Type-C dual input design, providing you with two charging options to meet your charging needs, and only takes 4-6 hours to fully charge the power bank.
【10000mAh High Capacity】 10000mAh Mini external battery supports multiple times charges for your phone, fast charges your iPad mini 1.2 times, iPhone 8 up to 3.5 times, iPhone X up to 5.5 times, Galaxy S8 up to 2.0 times, provides enough power to keep you going for daily use.
【High-Speed Charging】 Ultra-fast 5V/2A charging port and a maximum 2.1A recharge speed rate, big power for your devices,fully charge the iPhone 11 and Samsung Galaxy S10 within 2.5 hours, iPad Mini 5 within 4 hours.
【Mini-Sized & Light Weight】 Ultra compact 4.49 x 1.9 x 0.9 inches size and 6.67oz light weight, makes it easy to grab and hold in hand, or put it in your pocket, can be taken on the plane, more convenient when you go out for business trip or travel.
【Multiple Security Protection】 With the multiple protections of over-charge, over-discharge, over-voltage, over-current and short circuit, to protect your equipment throughout the charging process, more secure
Product Specification:
Size:113.5*49*23 mm/ 4.47*1.9*0.9 inch
Color:Black
Battery:lithium polymer
Battery capacity:10000 mah
Micro USB input: 5V/2A
Type C input: 5V/2A
USB A output: 5V/2.1AWeight:189G/6.67oz
Mini Portable Charger Power Bank 10000mAh
Dual Input Ports
Aibocn 10000mAh mini portable charger has a micro input port and a type c input port, enable to recharge with different cables, more convenient and charge fast.
Safety Protection
Intelligent protection system, auto power off after full charging. Keep your phone safe even charge overnight.
Complete Compatibility
Compatible with smart phones, include: iPhone 11/11 Pro/X/XS/XR/8/8Plus, iPad/iPad Pro/iPad mini, Samsung Galaxy S9te 8, Huawei and Tablets.
Pass-through Charging
Built-in intelligent power path management system, the power bank supports charge and discharge simultaneously, you could recharge the power bank and your phone at same time.
(Note: These function will slow down the recharge speed, will takes longer for your battery pack to reach a full charge)
Travel Free
The Aibocn mini power pack is airplane friendly, you can take it everywhere even on the plane.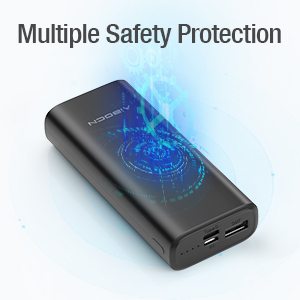 Dual Input Ports
With a Type-C input port and one micro USB input port, you can flexibly choose different models of charging cable to recharge the power bank , charging is faster and more convenient.
Portable & Compact
Compact size (4.47*1.9*0.9 inch) and its lightweight(6.67oz) design make the power bank profits perfectly into pack, palm, or pocket, a portable and useful backup battery for everyday life.
Multiple Safety Protection
Built-in multi -protection system protect the power bank against over current and short circuit. It'll automatically turn itself off when short circuit or overloading occurs. safe and provides you an ultra-long product lifespan.