Product Description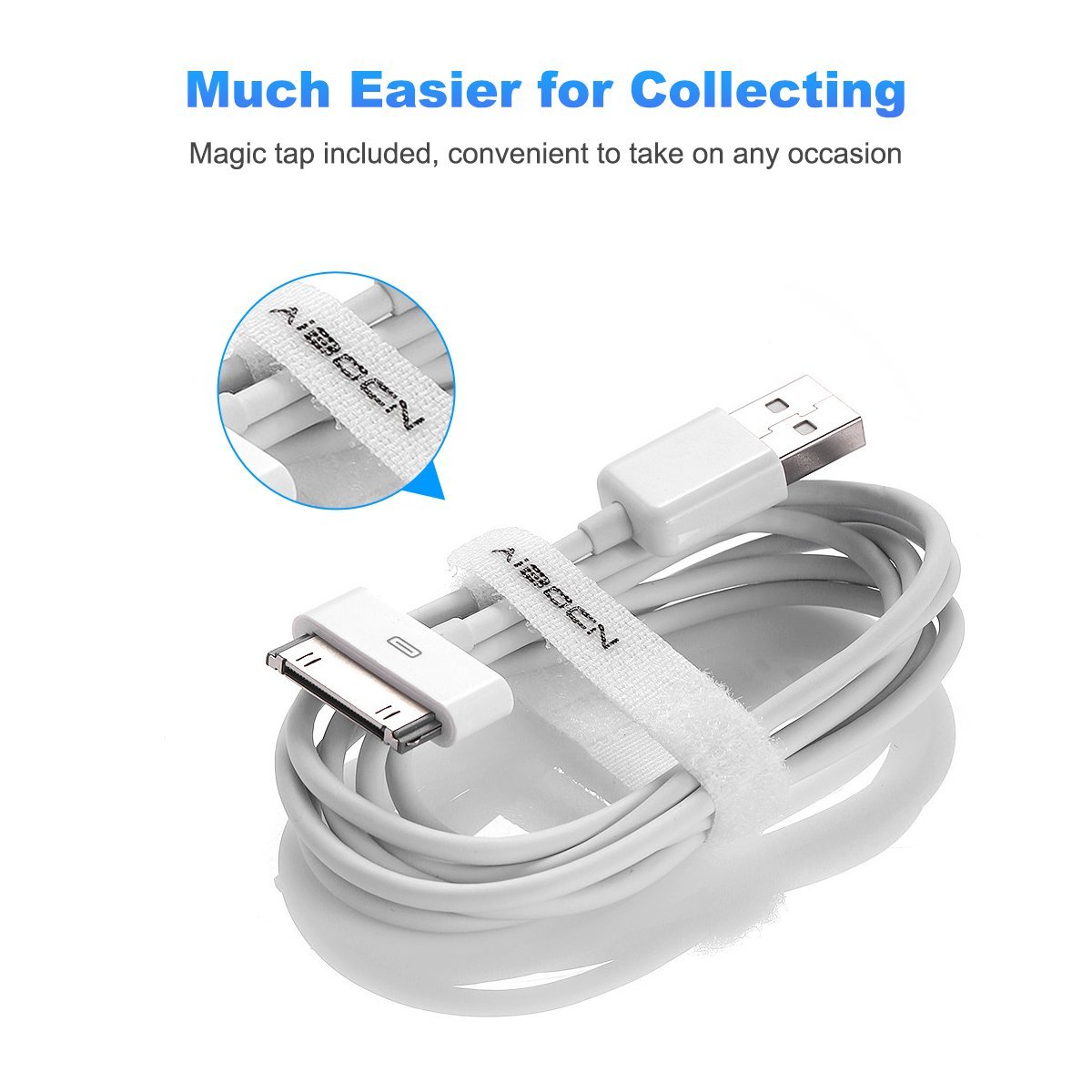 Distinguishing Features:
Apple MFi certified 30 pin dock cable with original Apple connector;
Lightweight and easily coiled, portable and convenient;
Highly durable and non-toxic materials for the great reliability;
Slim dock connector design gives easy connection with devices without removing the case;
Compatible with iPhone 4/4S/3G/3GS,iPad 1/2/3, iPod touch 1/2/3/4, and iPod nano 6.
Eco-friendly Cable
This 30 pin cable is made of eco-friendly material and proves non-toxic and innocuous by tests and certification of strict standards. Therefore, your health and safety in using the cable is totally guaranteed.
Product Specification

— Color: White
— Interface: USB 2.0 A type to Dock
— Connectors: USB A(male) to Dock(male)
— Length: 4 feet(1.2m) — Weight: 29g
Compatible Models

— iPhone:  iPhone 4, iPhone 4s, iPhone 3G, iPhone 3Gs
— iPad:  iPad(1st Generation), iPad 2(2nd Generation), iPad 3(3rd Generation)
— iPod:  iPod 5th Generation (video), iPod classic 80GB/160GB (2007), iPod classic 120GB (2008), iPod classic 160GB (2009);
iPod nano 1st, 2nd, 3rd, 4th, 5th, 6th Generation; iPod touch 1st, 2nd, 3rd, 4th Generation.
Apple MFI Certified Cable
Aibocn 30 pin cable is officially certified by Apple MFi. The original 30 pin connector and authenticated chip are directly from Apple Inc. The cable is absolutely of high quality and great reiability.
Convenient Syncing and Charging
This 30 pin cable is quite lightweight, esily-coiled and portable. It is greatly convenient for you to use it wherever you need to sync your data with a computer or charge your iPhone or iPod. The compact and neat cable is your best backup charger cable.
Warranty Policy:
12 months' worry-free product guarantee & 30 days' refund unconditionally for every purchase from AIBOCN.
Professional technical support, efficient and always satisfying customer service all the year round.