Product Description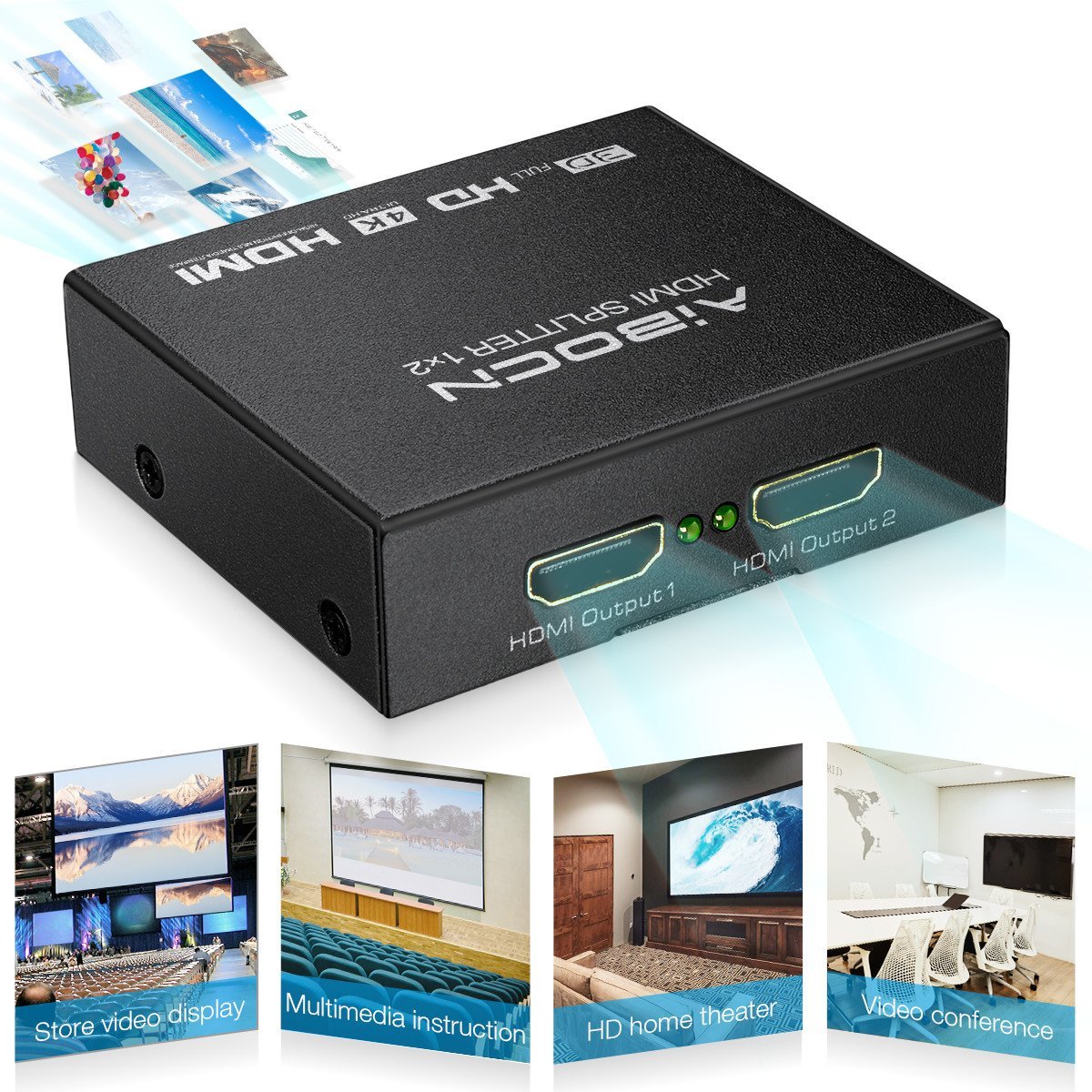 Aibocn 1 x 2 HDMI Splitter:
This HDMI splitlter is able to distribute 1 HDMI source to 2 HDMI displays simultaneously without loss in quality.
It almost supports all available audio options: DTS-HD/Dolby TrueHD/ LPCM 7.1/DTS/Dolby-AC3/DSD master audio.
It supports 576i/576p/720p/1080i/1080p/4k resolution & 3D, deep color 30bit, 36bit, 48bit per pixel.
Output video: HDMI 1.4a + HDCP1.0/1.1/1.2/1.3; input video signal: 0.5-1.0 volts p-p; input DDC signal: 5 volts p-p(TTL).
This splitter comes with a 5V AC adapter for more conveniences in use.
Portable Design:  
This Aibocn HDMI splitter has a compact, portable design. It features a user-friendly palm size for you to easily hold in hand and carry around for everyday use. The interface is designed to be easy to plug in.
Product Specification

Input Video Signal: 0.5 -1.0 volts p-p
Input DDC Signal: 5 volts p-p (TTL)
Max Single Link Range: 4K x 2K@30Hz Max
Output Video HDMI: 1.4a + HDCP1.0/1.1/1.2/1.3
HDMI Version: HDMI 1.4a
Frequency Bandwidth: 2.97Gbps
Package

1 x HDMI 1×2 Splitter
1 x 5V AC Adapter
1 x User Manual
HD Technology and Overload Protection
Aibocn uses the most advanced HD technology for this HDMI splitter. It widely supports 576i/576p/720p/1080i/1080P/4K and 3D Data transfer. You can feel relaxed to enjoy super HD movies and videos at home. The spilitter is designed to work for HDMI devices, such as PC, x-box, STV/Blu-ray, hd player ,PS3/4 and other devices and display. It has an integrated advanced chip to optimize the high definition quality. This Aibocn HDMI Splitter is a reliable splitter unit with safe power supply. When current exceeds the predetermined maximum, the protection device starts the automatic protection mode (with the 5V 1A power adapter).
Warranty Policy:
12 months' worry-free product guarantee & 30 days' refund unconditionally for every purchase from AIBOCN.
Professional technical support, efficient and always satisfying customer service all the year round.