Product Description
Aibocn Smart Lock Electronic Keypad Deadbolt Lock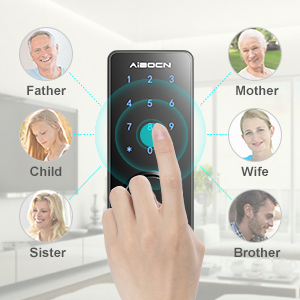 Main Features:
Smartphone Control
TTlock App Control via Bluetooth
Smartphone one touch to unlock, long press lock.
Send Unlimited bluetooth keys and generate passcodes
Manage all Bluetooth ekeys and passcodes
Remote unlock/lock via Gateway works with WiFi (Not included, need to purchase separately)
Monitor operation records
Note:
Bluetooth 4.0ble, the smartphone must be within 16.40 feet of the door lock to ensure the normal and stable Bluetooth connection.
Download the "TTLock" App form Google play store or Apple store, only supports Android 4.3/iOS7.0 version and above.
Other:
1 administrator passcode (can be modified)
Authorized admin(unlimited)
Set auto lock time (5-120s)
Monitor the batteries level
Control smart lock sound (off/on).
Company attendance function
Other Features
Up to 150 User Codes
There are up to 150 user codes that can meet the needs of you and your family. You can set passcodes according to your preferences and those of your family. You no longer need to worry about having too few passcodes
Auto Lock
After unlocking, you can use your smartphone to set the smart lock in TTlock App to automatically lock after 5-120 seconds.
Emergency Power Supply
There is an emergency power interface at the bottom of the front of the smart lock, use a 9V backup battery(not included, need additional configuration) to connect to the emergency power interface for temporary unlocking.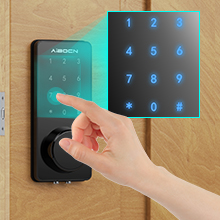 Intuitive LED Display
Touch the digital touch screen to wake up the LED to ensure that it can be used normally at night, and an alarm will occur when the passcode is wrong or the voltage is low.
Up to 1 Year Battery Life
4pcs AA Alkaline Batteries (not included), low power consumption, can be unlocked about 8000 times.
Super Easy to Install
Fits most standard American doors. Just watch a short video of the smart lock installation, follow the installation steps in the manual, and use a screwdriver to complete the installation in a short time, no wiring, no locksmith, save time and energy, simple and easy.
Both Suitable for Left Door and Right Door
Need to adjust the opening direction of the smart lock according to the opening direction of your own door, If your door is the left door,please turn the switch to L. if your door is the right door,please turn the switch to R.