Product Description
Aibocn Stylish Portable Charger Dual USB Port Power Bank Backup Battery
High capacity 20000mAh power bank charger with flashlight for iPhone, Samsung Galaxy, iPad, smartphones and tablets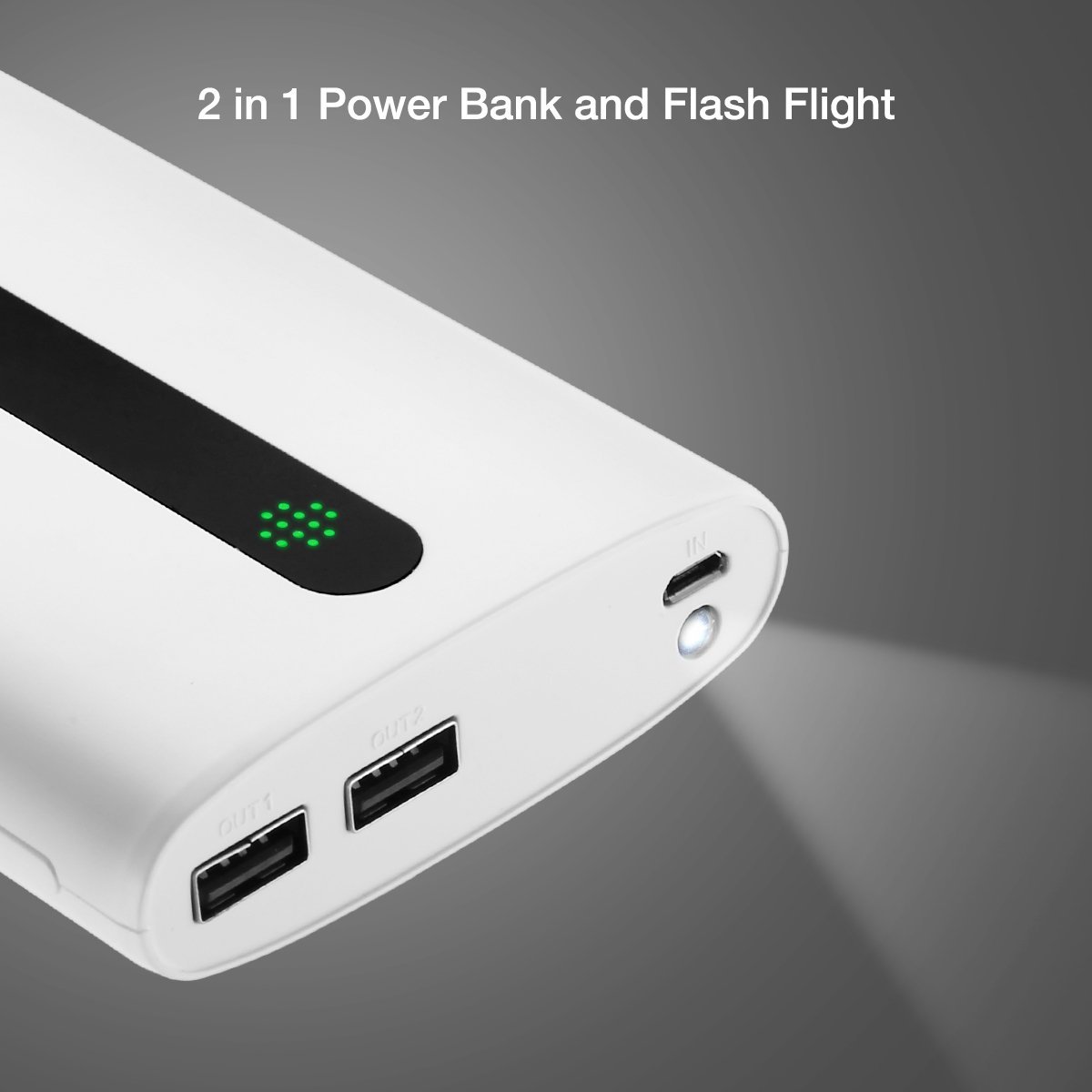 20000 mAh Portable Charger:
This high capacity power bank is beautifully made with an exquisite design and a portable size.
The portable charger features great ergonomics in the anti-fingerprint surface that allows you to hold in hand comfortably.
This 20000mAh external battery power bank has dual USB ports with 2.0A and 1.0A quick output for charging 2 USB devices simultaneously.
It's a stylish portable charger with flashlight which you would find helpful in case of need.
Portable External Battery Power Bank:
This 20000mAh portable power bank has a compact design. The beautifully built power bank measures only 6.44*3.16*0.98 inches. This small size fits in the palm perfectly. Instead of a heavy, bulky external battery pack, it's a thin, lightweight power bank you can take with you wherever you go.
Convenient 2 USB Ports:
The exquisite white portable charger has 2 USB ports, one at 2 amps and the other at 1 amp for the output current. You can charge 2 devices at the same time conveniently. The power bank holds plenty of power juice to meet the need of 2 devices simultaneously.
Compatible with All USB Devices:
The high capacity power bank comes with a USB cable for easy charging. The power bank is widely compatible with most smartphones and tablets. For example, it's ideal for Apple iPhone, Samsung, HTC, Huawei, LG, Google smartphones, iPad, Kindle, Google Nexus tablets and so on.
Bright LED Flashlight
The useful power bank with flashlight stores enough power to support the bright LED flashlight for you when necessary. It's easy to use the flashlight. All that you need to do is to press the ON/OFF button twice to switch it on to light up the dark place. When you don't need it, press it twice again to swith it off.
Power Bank with Intelligent Protection:
This 20000mAh external battery pack charges devices fast, in the meantime, it has intelligent protection to keep charging safe and smooth. The integrated protection system will effectively guard against overload, over heating, over discharge, short-circuit and unstable voltage or current. When it detects an issue during charge, it will automatically shut down for self protection.
Warranty Policy:12 months' worry-free product guarantee & 30 days' refund unconditionally for every purchase from AIBOCN.Professional technical support, efficient and always satisfying customer service all the year round.