Product Description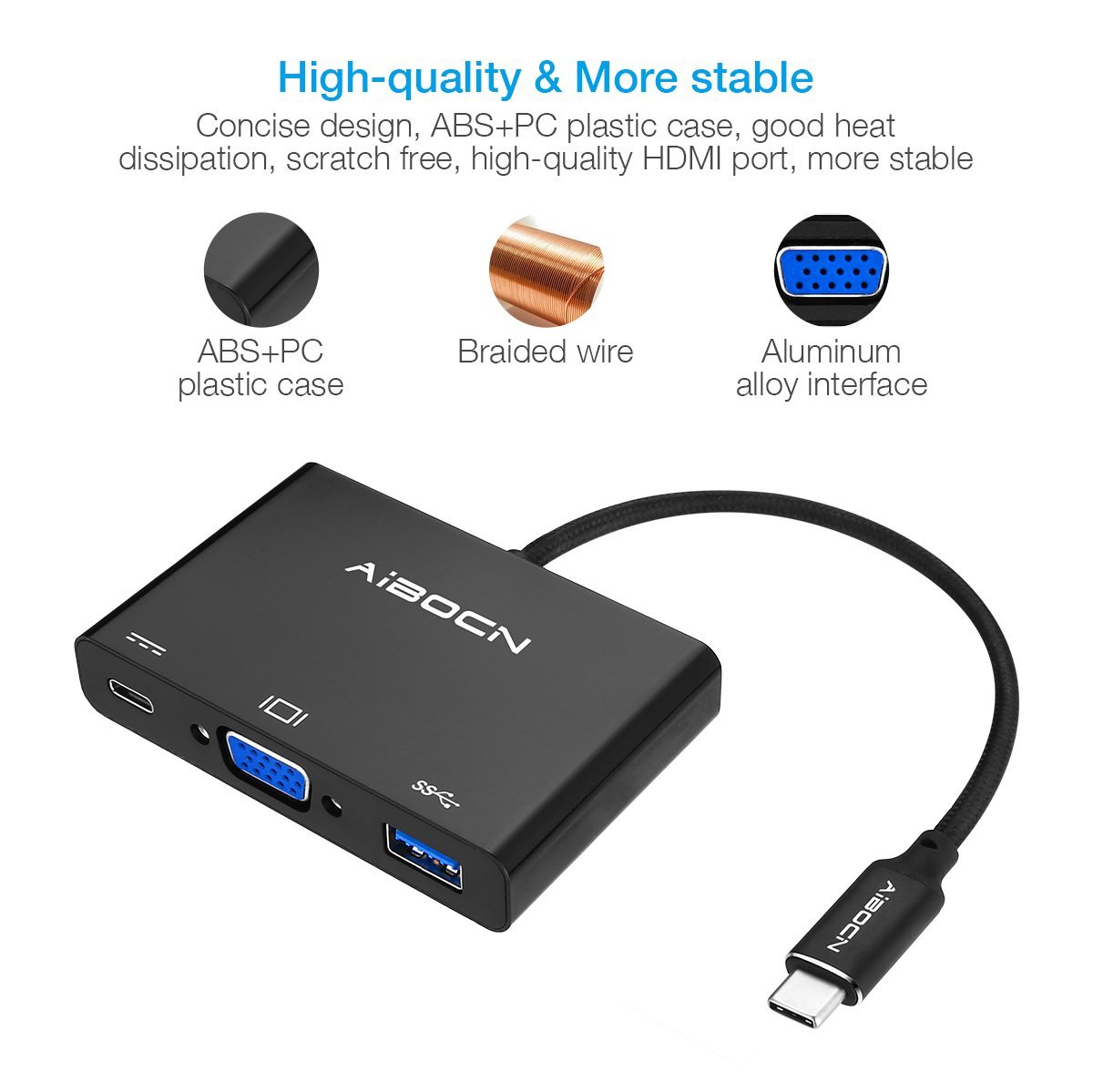 USB-C Digital VGA Multiport Adapter with PD 2.0:
This Type-C to VGA(1080P/60HZ) with USB 3.0 (0.5V/1.5A)and PD 2.0 Adapter( Input power 60W ) has fast transmission for your full HD display.
You can connect your devices most conveniently because of the reversible USB Type C connector. Just simply plug and play.
When you connect your Macbook to a HD screen display, your Macbook is being charged at the same time through the USB-C charging port.
The heavy-duty tangle free braided cable and the well made anodized aluminum surface guarantee bettery signal transmission and heat dissipation.
Product Specification

Brand:   Aibocn
Color:   Black
VGA Resolutions:  1080P/60HZ
USB Type:  USB Type C, USB 3.0
Plug and Play

This USB-C VGA multiport adapter allows you to plug and play effortlessly. The adapter doesn't need any external software driver or power source to make it work. Plus, the USB C offers great conveniences for the reversible plug direction.
Durable USB-C to VGA Converter Adapter
This USB 3.0 Type C to VGA with PD cable adapter has a durable casing which is made of sturdy ABS and PC plastic. The sturdy braided USB cable is strongly built to ensure stable signal transimission. Aibocn uses most up-to-date anodized aluminum alloy for the USB Type C male head for easy connection with great durability.
Quality Type-C to VGA Adapter with Protection
Aibocn USB-C digital VGA multiport adapter ensures safety for the heavy-duty cable and the high quality adapter design. The built-in protection safeguards your devices and the adpater against overload, over heat, over discarge, short circuit problems.
Warranty Policy:
12 months' worry-free product guarantee & 30 days' refund unconditionally for every purchase from AIBOCN.
Professional technical support, efficient and always satisfying customer service all the year round.