Now gentlemen enjoy using battery-powered electric razors. These advanced power tools are much better than ordinary razors since battery-operated electric shavers make shaving beard and moustaches much easier.
In spite of bulkier size, battery-operated electric shavers tend to work conveniently and safely.
Moreover, electric shavers help remove beard and moustaches completely in a very snug manner.
Still, some users complain that some electric shavers fail to remove beard or moustaches completely. But issues like that have better improvement along with the development of electric shaver manufacturing.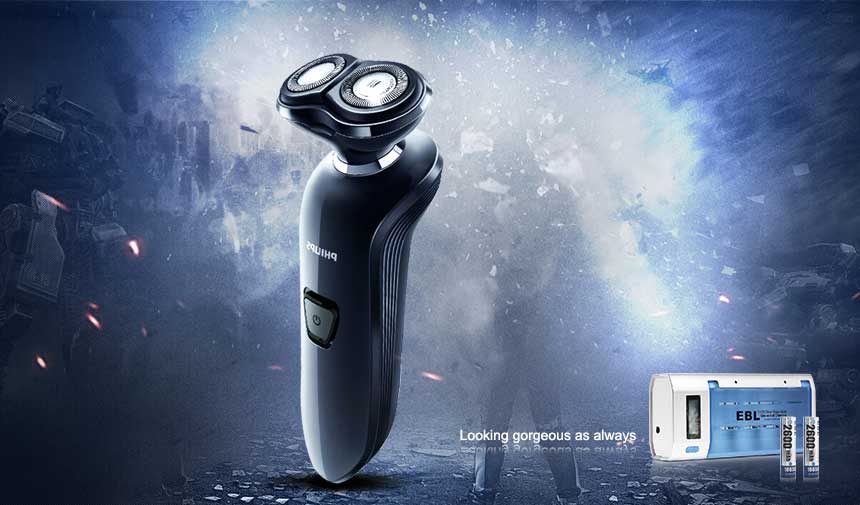 For some new types of electric shavers, other than the shaving function, they also have other additional features to attract users, such as smart indicator showing the cleanliness of razors, and the battery power level. Besides, a new generation of electric shavers were well designed to remove the hair on the temples, helping gentlemen stay clean and charming.
In addition, there are some electric shavered designed inclusively for teenagers or young men, with an age range from 18 to 25 years old.
Some electric shavers may be designed to plug directly into a wall outlet with a swing-out or pop-up plug, or have a detachable AC cord. Other electric shavers have recharging base units that plug into an AC outlet and provide DC power at the base contacts.
However, there are also some travel shavers which typically use removable rechargeable or disposable batteries, usually size AA or AAA. This offers the option of purchasing batteries while traveling instead of carrying a charging device. And AA or AAA size rechargeable batteries are more strongly suggested to use because of power and environmental protection concepts.
http://www.aibocn.net/wp-content/uploads/2017/05/5555-1.jpg
505
860
Aibocn Offcial
http://www.aibocn.net/wp-content/uploads/2017/07/logo1.png
Aibocn Offcial
2015-12-27 10:55:55
2017-05-27 15:40:44
Advanced electric shavers spread far and wide