Commonly an adapter or adaptor refers to a device that converts attributes of one electrical device or system to those of an otherwise incompatible device or system. Some modify power or signal attributes, while others merely adapt the physical form of one electrical connector to another.
An adapter enables the connection of a power plug by AC power socket. An Ac adapter is commonly called a recharger, which is a small power supply changing household electric current from distribution voltage, in the range 100 to 240 volts AC, to low voltage DC.
Many adapters have been designed to be compact and exceptionally powerful. For instance, an advanced USB adapter has 4 USB output ports incredibly. You can charge multiple devices simultaneously at full speed by 21W 4.2A for the maximaum.
The exceptional design gives you the multiple devices charging at the same time and the fastest charging speed ever.
The perfect 4 in 1 design implies the concept that Less is More.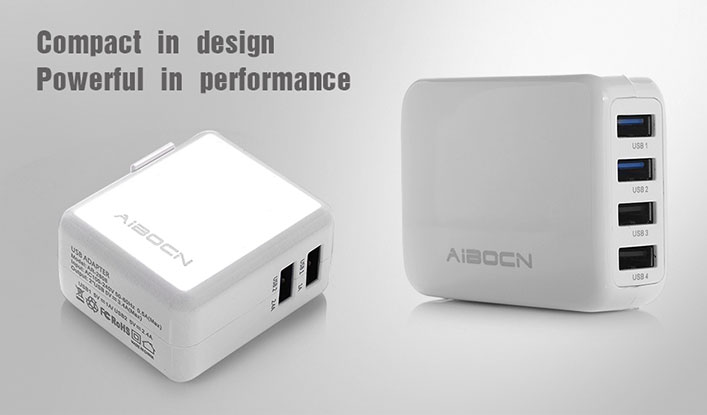 The USB adapter has an ergonomical, compact and portable design, the whole size is 2.8 x 2.1 x 1 inches, which appears much more space-saving and better-organized for charging multiple devices. The USB adapter has a fire-proof and solid plastic outer shell. The material is high-tech and high-quality, making the charger more durable in practical use.
http://www.aibocn.net/wp-content/uploads/2017/05/new1.jpg
415
707
Aibocn Offcial
http://www.aibocn.net/wp-content/uploads/2017/07/logo1.png
Aibocn Offcial
2017-03-02 11:48:53
2017-05-27 15:43:05
Advanced new electric power adapters