It might surprise you to realize that the latest HDMI splitters are made to be unbelievably small. When you have a compact, portable and lightweight HDMI splitter that you can easily take it anywhere and use it anytime, you will greatly appreciate the rapid improvement of high technologies and brilliant ideas in new designs for electronics.
Usually, a typical splitter has an HDMI input to connect a display source while some have a few inputs for multiple connection. HDMI splitters are powered by their own power source. This makes it difficult to split HD videos on 2 or multiple displays technologically. However, the newly-designed HDMI splitters are able to solve all the HD sharing and connection problems with high quality transfer.
Let's list some of the best HDMI splittters on the market. They will meet your need for HD movies on large display connection.
1. Aibocn HDMI Switcher 2 Ports Bi-direction Manual Switch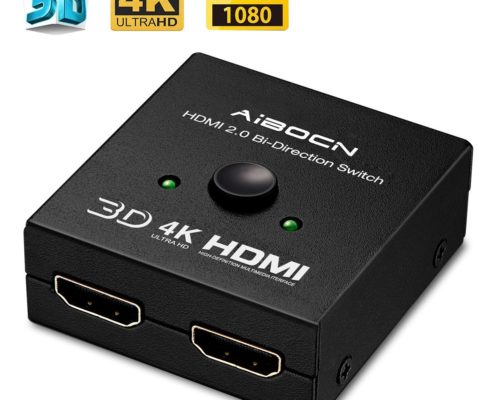 This Aibocn HDMI 4K Be-Direction Switch/Splitter widely supports HD 4K*2K, 3D for HDTV, PC, DVD, STB and more. It can be used as an HDMI splitter and also an HDMI switch for HDMI display connection. This switch and spilitter is designed to work for HDMI devices, such as PC, X-box, STV/Blu-ray, HD player, PS3/4 and other devices and display. Other than wide compatibility, the splitter has integrated advanced chip to optimize the high definition quality. This HDMI spilitter device is user-friendly and portable.
2. OREI HD-102 1×2 1 Port HDMI Powered Splitter Ver 1.3 Certified for Full HD 1080P & 3D Support (One Input To Two Outputs)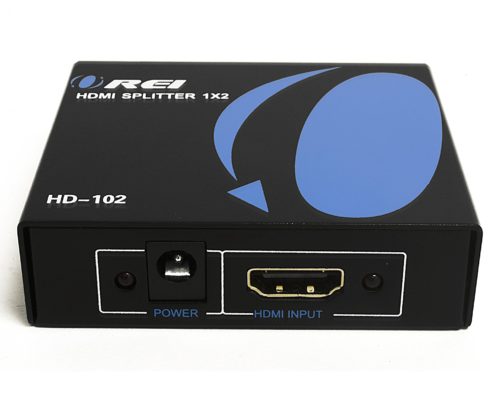 This HDMI splitter can split one HDMI input signal to two HDMI output signals which are identical to the input signal. It's built with heavy-duty metal enclosure that protects the whole unit well. The unit has quick heat absoption and dissipation by using the cool metal material. It supports a great variety of video formats, such as Deep Color 480i/ 576i/ 480p/ 576p/ 720p/ 1080i/ 1080P/ 1440i/ 1440p. It also works perfectly with HDCP, LPCM, Dolby-AC3, DTS7.1, DSD/Dolby TrueHD/DTS-HD master audio etc.
3. fitTek Hdmi Spliter,Hdmi signal Splitter,Hdmi Splitter,Hdmi switch,1×2 hdmi Splitter,Hdmi switch box,Hdmi Switch Splitter fitTek? Selector Switch Box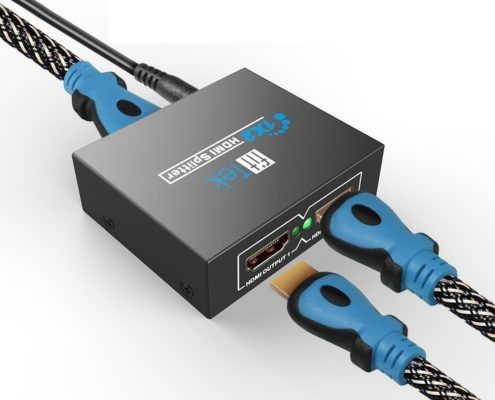 This HDMI splitter takes audio and video signal from one source and simultaneously outputs them to two HDTVs or HDMI displays. This 1 in 2 out HDMI splitter is easy to use, you just need to simply plug and play with the power supply connected. And it will takes a just a few seconds to connect one HDMI source to two HDMI displays. The HDMI Splitter works perfectly with HDMI devices like 4K TV, projector, HDMI LCD, Cable box, Blu-ray player, DVD player, PC, STB, PS3 etc. This HDMI Spliter 1 in 2 out is designed to ensure high-quality image without signal loss.
4. HDMI Splitter Keliiyo 1X4 Ports Powered V1.4b Video Converter with Full Ultra HD 1080P 4K/2K and 3D Resolutions (1 Input to 4 Outputs)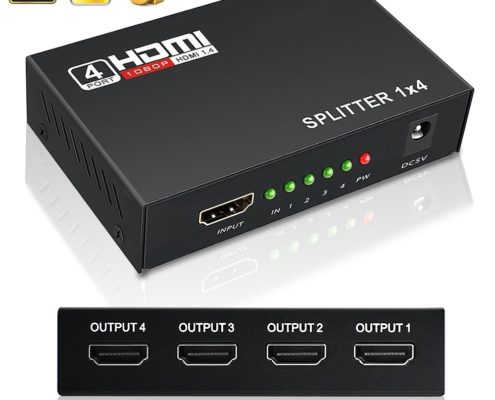 This HDMI splitter has 4 outputs which all receive high-quality data in a very timely manner. The LEDs help a lot to show that the connection is stable. The video quality can even do 3D and 4K 1080P amazingly. It works with most displays or projectors. The splitter is made of reliable metal material for great durability. All that you need is an HDMI cable to connect your devices and enjoy HD movies or video games.
5. HDMI Switch 4k, GANA Intelligent 3-Port HDMI Switcher,splitter, Supports 4K, Full HD1080p, 3D with IR Remote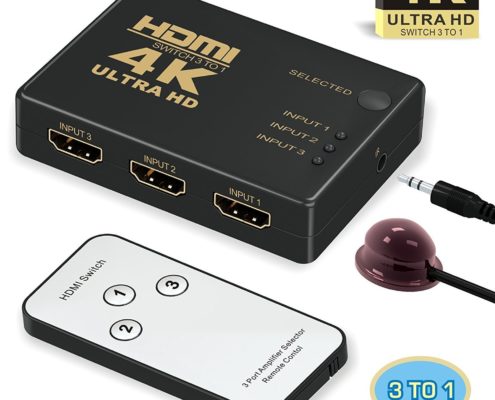 This HDMI switcher supports 4K resolution, deep color and 3D effect. It can neect up to 3 HDMI compatible devices for seamless connection without external power or tools required. It comes with an infrared remote control for you to easily switch between devices. The HDMI switch comes with a 5V power port and a USB power cable that allows you to use it with more other deivces, such as Nintendo Switch, Blue-ray, PS4, PS3, Xbox, HD-DVD, SKY-STB, Xbo360 and most of the other audio and video devices.
http://www.aibocn.net/wp-content/uploads/2018/05/best20180529143120.jpg
400
600
Aibocn Offcial
http://www.aibocn.net/wp-content/uploads/2017/07/logo1.png
Aibocn Offcial
2018-05-29 14:36:05
2020-12-21 18:26:04
Best HDMI Splitters Roundup: The Most Reliable HDMI Splitters for Super HD Signal Sharing