Product Description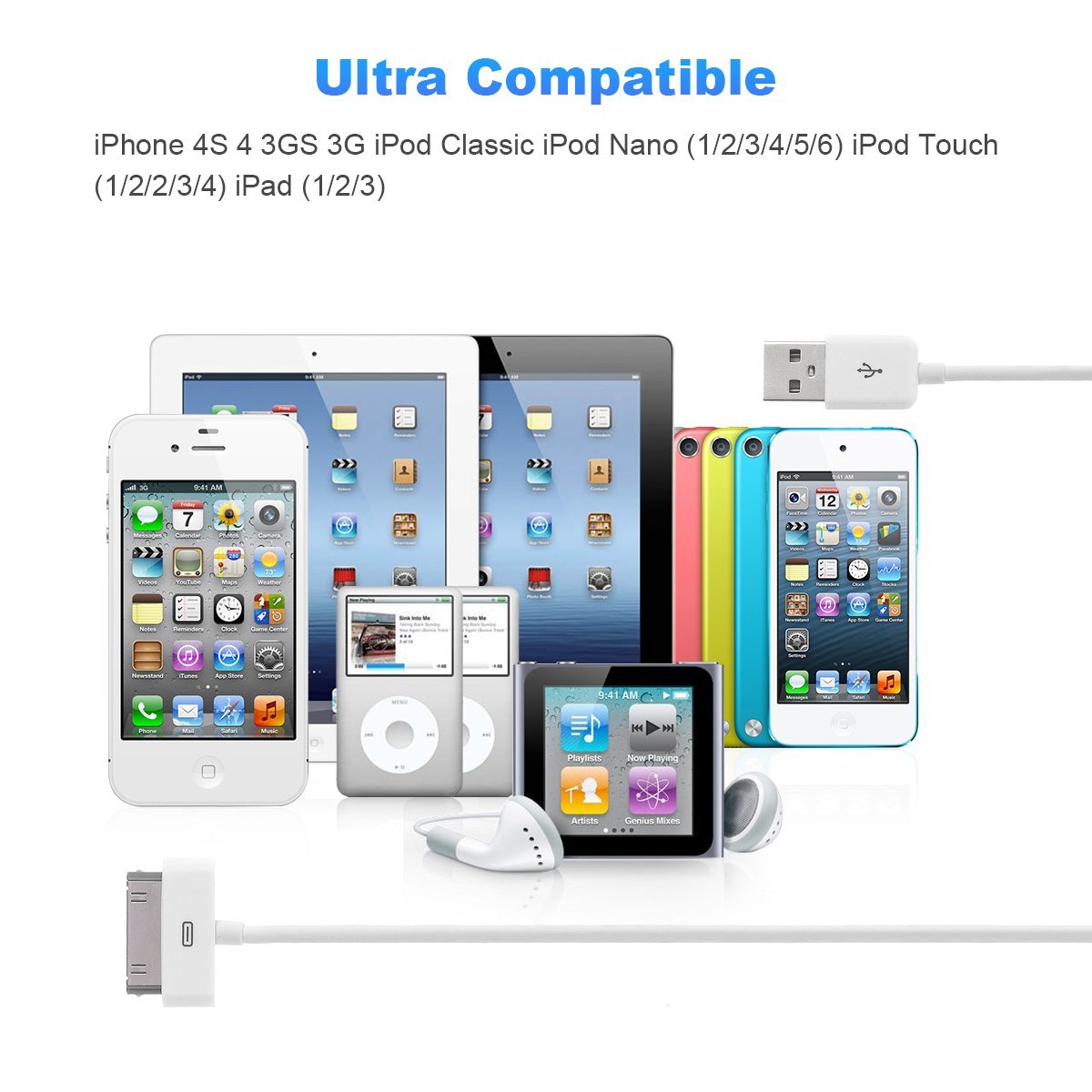 Apple Certified 30 Pin Cable:
This Apple MFi certified USB cable works perfectly for iPhone 4/4S/3G/3GS,iPad 1/2/3, iPod touch 1/2/3/4, and iPod nano 6.
The 30 pin dock cable uses Apple original USB connector for fast charging and data syncing.
The USB cable is made of durable and protective cable jacket. It can be easily coiled.
The USB dock connector is of high quality, allowing you to plug conveniently with your phone case on.
High Quality USB Cable
The USB 30-pin dock-connector cable is made of high quality material. The highly protective cable jacket is strongly built to last long. With strict test for plugging and unplugging, the USB connector fully meets the safety and testing standards of Apple 30 pin USB cables.
Product Specification

— Color: White
— Interface: USB 2.0 A type to Dock
— Connectors: USB A(male) to Dock(male)
— Length: 4 feet(1.2m) — Weight: 29g
Compatible Models

— iPhone: iPhone 4, iPhone 4s, iPhone 3G, iPhone 3Gs
— iPad: iPad(1st Generation), iPad 2(2nd Generation), iPad 3(3rd Generation)
— iPod: iPod 5th Generation (video), iPod classic 80GB/160GB (2007), iPod classic 120GB (2008), iPod classic 160GB (2009);
iPod nano 1st, 2nd, 3rd, 4th, 5th, 6th Generation; iPod touch 1st, 2nd, 3rd, 4th Generation.
Apple MFi Certified Cable
Aibocn Apple certified 30 pin cable  is officially certified by Apple MFi. The original 30 pin connector and authenticated chip are directly from Apple Inc. The cable provides you with great conveniences for everyday charging and data transfer.
The Best Backup USB Cables
Aibocn 30 pin cables come in 2 packs. You will enjoy great conveniences with these 2-pack USB cables. They are fully compatible with quite a lot of Apple devices, iPhones, iPods and iPads. These USB cables come in handy to charge and sync data as they perfectly fit your device's port with the Apple origianl connector.
Warranty Policy:
12 months' worry-free product guarantee & 30 days' refund unconditionally for every purchase from AIBOCN.
Professional technical support, efficient and always satisfying customer service all the year round.