When it comes to USB cables for Apple products, you would probably care about the quality, the compatibility and the prices as well. Most 30 pin cables on the market meet the requirements of daily use for Apple devices. But considering the quality and prices, you would need to take a look at the best ones. These following 30 pin to USB cables are recommended by many customers. They are impressed with the compatibility and the fast, easy charging and data transfer.
It's a good idea to get some most reliable iPhone accessories as backup or replacement. Check these best quality Apple MFi Certified Apple 30-pin to USB Cables with most affordable prices listed below.
1. Apple MFi Certified 30 Pin Cable, Quality USB Charging Cables for iPhone, iPad, iPod
Aibocn Apple MFi Certified 30 Pin Cables come in 2 packs. The fast charging USB cables enjoy Amazon's Choice because of the reliable quality and great popularity among customers. The 2-pack 30 pin USB cables are Apple MFi certified for using the Apple original USB connector. You will enjoy great conveniences with these 2-pack USB cables. They are fully compatible with quite a lot of Apple devices, iPhones, iPods and iPads. These USB cables come in handy to charge and sync data as they perfectly fit your device's port with the Apple origianl connector. These are the best backup USB cables with a most affordable price $9.99 on Amazon.
2. iXCC 10ft Long Apple MFi Certified 30 pin to USB Sync and Charge Cable for iPhone 4/4s, iPad 2/3, iPod 1-6 Gen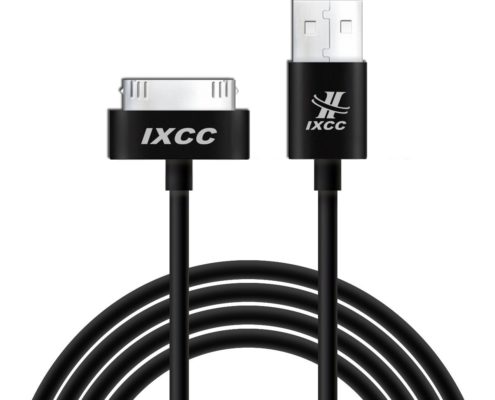 This Apple MFi Certified 30 pin to USB cable sells at only 7.99 dollars. It has a decent length, up to 10 feet, providing you with easy connection. This long USB cable is 100% compatible with iOS system without any warning message saying "incompatible". It works perfectly for iPhone 3G, iPhone 3Gs, iPhone 4, iPhone 4s; iPad 1, iPad 2, iPad 3; iPod 1, iPod 2, iPod 3, iPod 4, iPod 5 and iPod 6.
3. Poweradd 2 Pack 30 Pin USB Charging and Sync Dock Connector Data Cable for iPhone 4S / 4, iPad 1 / 2 / 3, iPod Touch, iPod Nano – 4.0 Feet / 1.2 Meters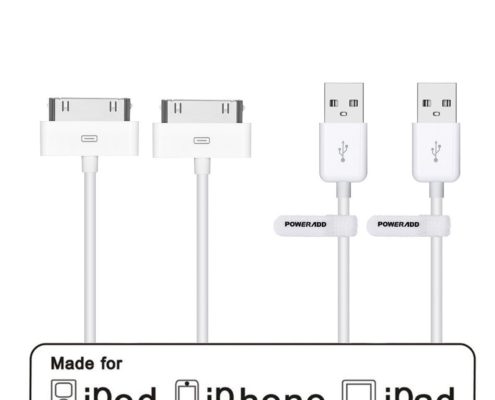 Poweradd 30 Pin USB Cables sell at $9.99 for 2 packs. The 30 pin cable uses Apple original 30 pin connector which access to all controls and dock connector effortlessly. This Apple MFi certified USB cable enables you to sync data and charge your Apple devices fast and easily. The 4 feet length allows you to connect more easily. It's built to be lightweight and compact with form-fitting construction. It's widely compatible with iPhone 3G/3GS/4/4S, iPad 1/2/3, iPod nano 5th/6th generations and iPod Touch 3rd/4th generations.
4. iPhone 4s Cable, OPSO [Apple MFi Certified] 30 pin to USB Sync and Charging Cable for iPhone 4/4s,iPad 1/2/3,iPod Touch,iPod Nano – 4.0 Feet (1.2 Meter)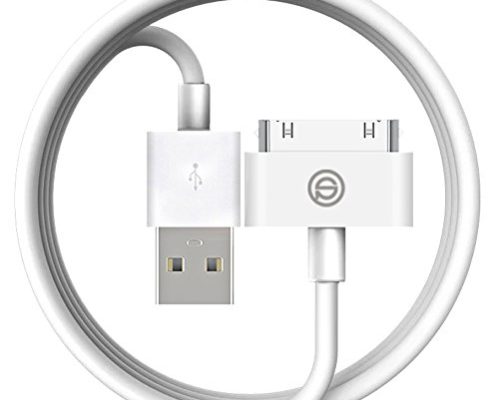 This OPSO Apple MFi Certified 30 pin to USB charging cable is one of the most affordable USB cables on the market with $4.95 for the price. It can charge and sync data simultaneously. The maximum charging current is up to 2.1A. This 30 pin USB cable is made of envorionmentally friendly TPE wire. It's strongly resistant to daily wear and tear. The cable is widely compatible with 30-pin-enabled Apple iPhones, iPads and iPods.
5. 2 PCS Apple MFI Certified 3.2Feet(1.M) Charging and Sync Cable for Iphone 4s Iphone 4 Iphone 3gs,ipad Ipad 2 Ipad 3,ipod Touch 4th,Ipod Nano 6th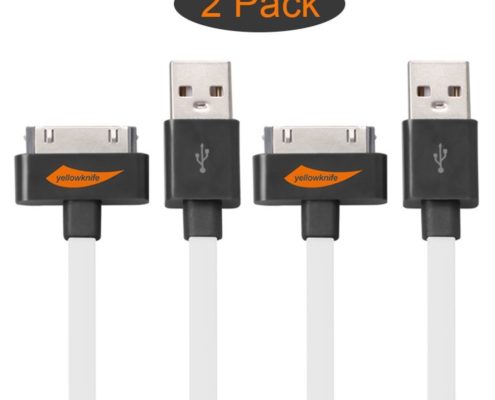 Yellowknife Apple MFi Certified 30 pin USB cables come in 2 packs, selling at $10.99. The USB cable is finely designed to be easily accessible to all Apple 30 pin adapters. The reliable quality allows you to transfer data and recharge your iPhone, iPod or iPad most conveniently. The replacement 30 pin cable can do the job well, just like the original Apple cable, and it's uniquely made with authenic material for great reliability.
Hopefully this short list of best USB 30 pin cables would be helpful if you are looking to replace your 30 Pin Sync and Charge Dock Cable for iPhone, iPad, or iPod. These fully tested USB cables are Apple MFi certified USB cables for great durability. They are best cable backup or replacement for your Apple devices.
http://www.aibocn.net/wp-content/uploads/2018/02/usbcableL._SL700_.jpg
400
600
Aibocn Offcial
http://www.aibocn.net/wp-content/uploads/2017/07/logo1.png
Aibocn Offcial
2018-02-23 11:41:07
2018-02-27 15:38:35
Most Affordable Apple Certified 30 Pin Cables for Fast Charging / Data Syncing