Apple Mac Pro, as a most powerful computer so far, is definitely something unprecedented. This is mainly what makes it so proud of himself: the basic configuration, aside from a compact and exquisite appearance design.
12 core processor, 64 GB RAM memory, 1TB flash memory and double AMD display card. Furthermore, Mac Pro's image processor has a top AMD FirePro workstation-level image processor configuring 6 GB discrete VRAM.
The unprecedentedly outstanding performance of image processing will completely meet your need if you are working in need of a great mass of image processing files.
Intel HD Graphics 3000 integrated image processor is perfectly built in MacBook Pro for it's due job.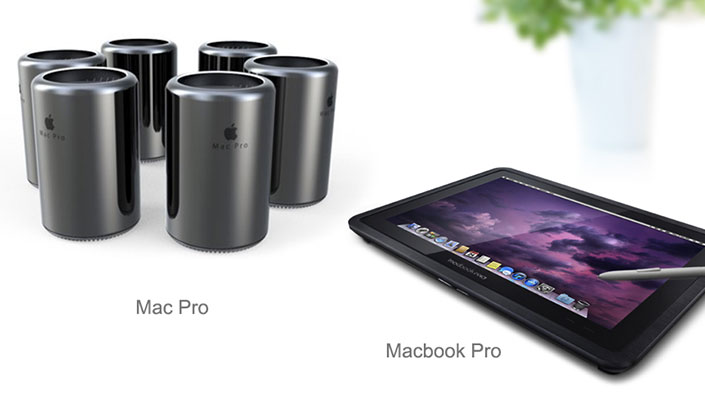 When programmes that call for a large quantity of resources are running in this computer, the 15 and 17 inches' MacBook Pro will automatically convert into the brand-new advanced AMD Radeon image processor and the image performace is by far obviously enhanced as it's actually triple of old computers.
As what's mentioned above, the image processor is a distinguishing feature of the computer itself. However, this new computer has more advanced features to become such a perfect computer of a new generation.
The brand-new FaceTime HD camera is rarely seen in other computers. So is the super Multi-Touch touchpad. Besides, MacBook Pro is equipped with only one battery, yet the only one battery has a super long lifespan, triple some normal tablets. MacBook Pro also gives you the best internet connection with the help of the latest 802.11n wireless technology. It's also available for your wireless accessory devices by its built-in Bluetooth wireless technology.
http://www.aibocn.net/wp-content/uploads/2017/05/1-01006.jpg
414
705
Aibocn Offcial
http://www.aibocn.net/wp-content/uploads/2017/07/logo1.png
Aibocn Offcial
2017-04-16 14:05:53
2017-05-27 15:45:30
What makes Apple Mac Pro and Macbook Pro so proud of themselves?