Product Description
Aibocn Smart Lock, Electronic Keypad Deadbolt Lock, Keyless Entry Door Lock with Auto-Lock, Anti-Peeping Password, Easy to Install and Program, Security Smart Door Lock for Home Bedroom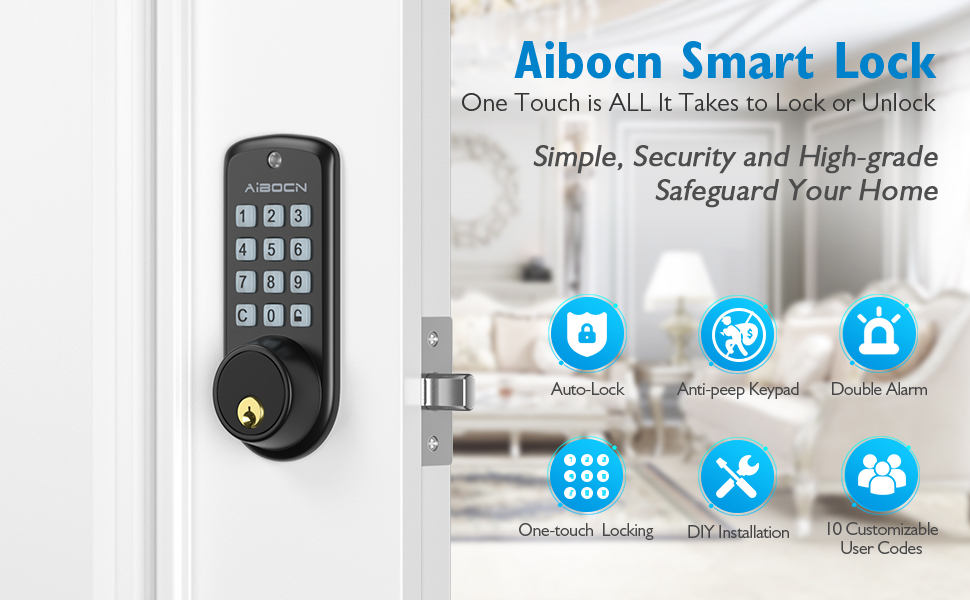 Aibocn electronic door lock is suitable for most types of door applies to left-hand door and right-hand door, forged with zinc alloy high-quality materials, it is not only weatherproof, high temperature and low temperature resistance, but also has a decorative function.
Plus,the deadbolt smart lock is easy to install, convenient and safe operation, which improves the taste of furniture and guards your family security at the same time.
Code door lock is simple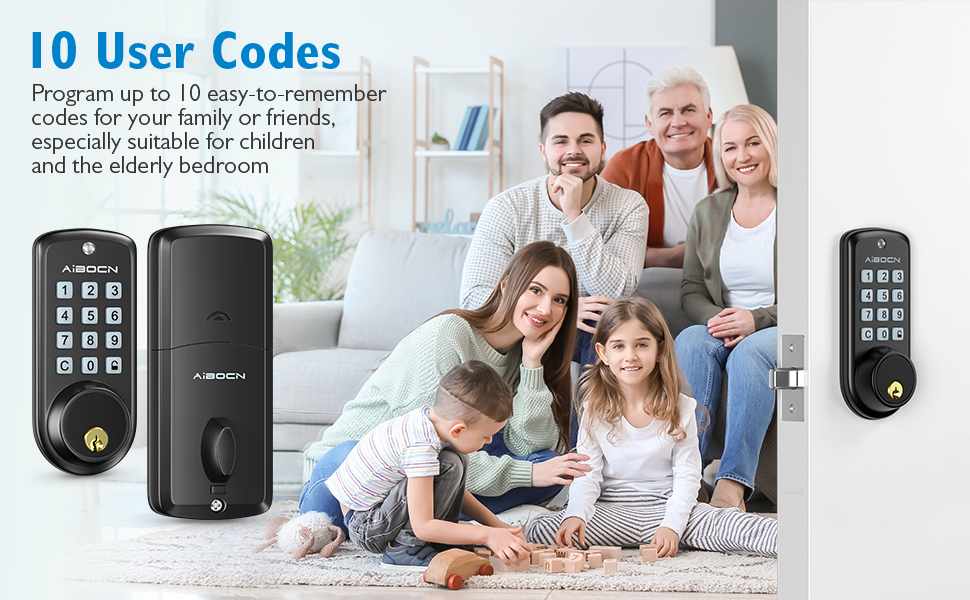 keyless entry door lock is convenien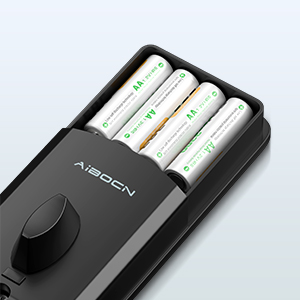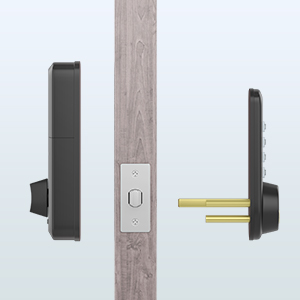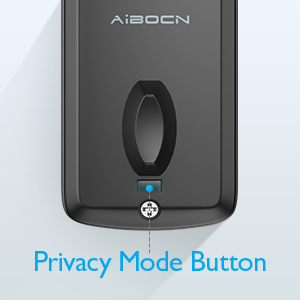 Energy-saving Design & Low Battery Warning
The smart deadbolt adopts an energy-saving design, and 4 AA batteries can be used for about 6-12 months. In additon, with a low battery, this digital door lock will make a "di-di" sound to remind you.
Easy Installation & Program
Our instructions have detailed programming instructions with pictures and video, you just follow the pictures,video, you can master how to install and program keypad deadbolt in minutes.
Privacy Mode Button
Our bedroom door lock have privacy features, if you don't want to be disturbed, you can turn on the privacy button. Always it is a good choice when you need private space.
keyless entry door lock is convenient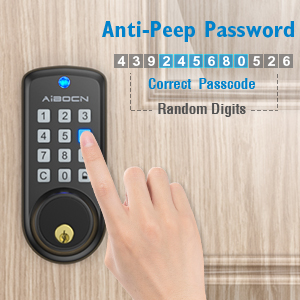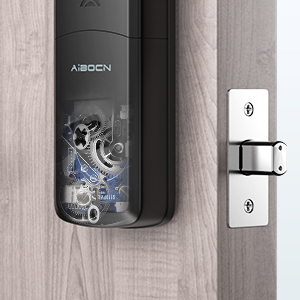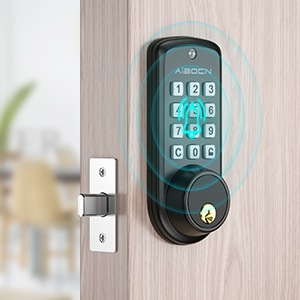 Anti-Peep Password
You can enter random numbers before and after the correct password,so keypad door lock can greatly protect your passcode privacy.
High Quality Material
We've used premium zinc alloy materials, and the quality has been tested by leading authorities many times, what's more, the smart locks deadbolt still works after 250,000 locking and unlocking times.
Anti-Theft Function
When the wrong password is entered 4 times, the front door lock will alert and automatically shut down 3 minutes. Only key can unlock it.
door locks with deadbolt is durable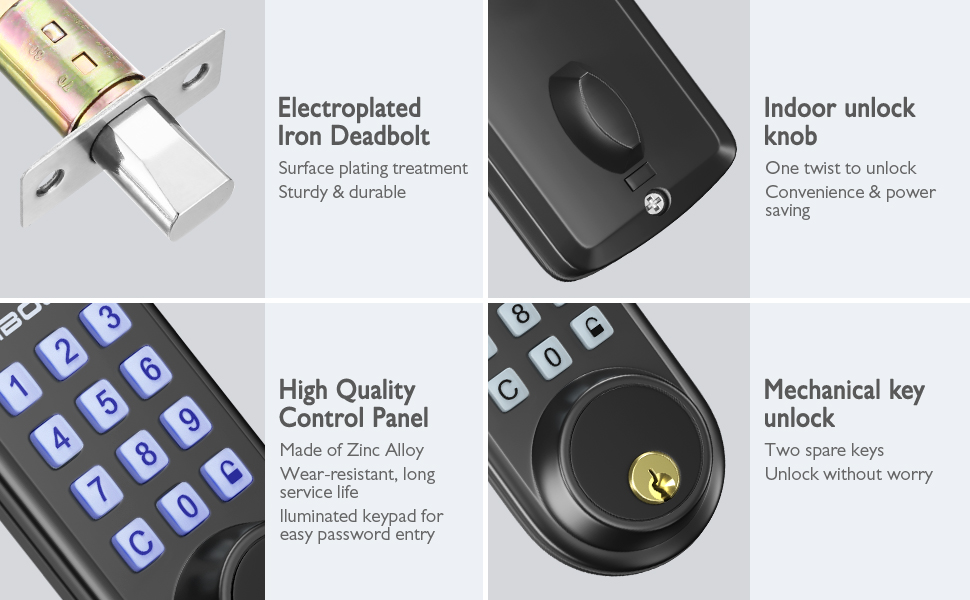 FQA 1
Q1.Why is the latch bolt not extended or retracted properly?/Why can't I unlock with my password? I can't lock it by pressing the unlocking key?
A1.The rotating part of the knob is not positioned vertically.(right handed door) or horizontally(left handed door).
A2.Because when you installed the deadbolt lock, you did not distinguish between the left and right handed doors.
For left handed door, you need to turn the switch (on the lower right panel behind the door lock) to "R".
For right handed door, you need to turn the switch (on the lower right panel behind the door lock) to "L".
A3.The battery may be dead, when the automatic door lock makes a "di-di" sound, you need to replace the battery.
A4.Because when you installed the front panel of the door locks, you did not place the longest spindle behind the front panel vertically.
A5.The position of the deadbolt is reversed. You need to follow the "up" arrow to place the deadbolt.
A6.When you were installing the deadbolt, you stuck the deadbolt out.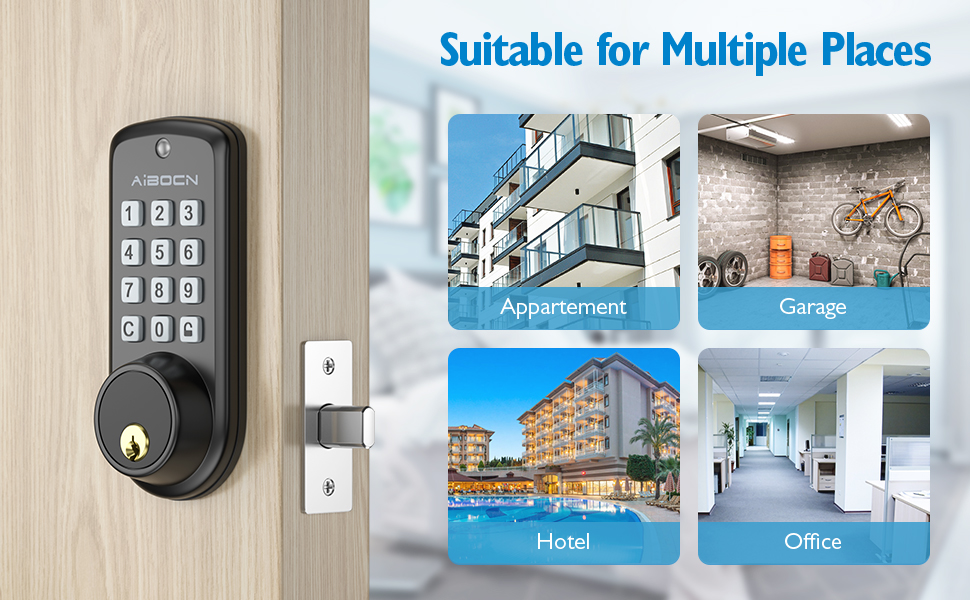 FQA 2
■ Q2.Do I need to drill holes to install the keyless deadbolt?
A2.Need not.
■ Q3.What type of door is this keyless door lock suitable for?
A3.most standard residential wooden doors.
■ Q4.What range of thickness is this lock for door suitable for?
A4.1.49 inches -1.89 inches.
■ Q5.Is this smart key lock suitable for outdoor use?
A5.No, it can only be used indoors. You can use it for bedroom, garage or storage room.
■ Q6.How many keys are in the package? can i copy the key?
A6.2,yes you can make as many as you want, they are standard house keys.
■ Q7.Is this electronic deadbolt compatible with schlage (sc) or kwikset (ks) keys ?
A7.SC.
■ Q8.What if I forget my password and don't have my key?
A8.You can reset the password and then use the new password to unlock.