Remote controls are consumer IR devices that send digitally-coded pulses of infrared radiation to control functions such as power, volume, tuning, temperature set point, fan speed, or other features. Remote controls for these devices are usually small wireless handheld objects with an array of buttons for adjusting various settings such as television channel, track number, and volume.
To operate these controls, remote control battery could easily run out. Also, damage to remote control can happen when it is not often used. For example, the remote control battery for air conditioner has to be taken good care of.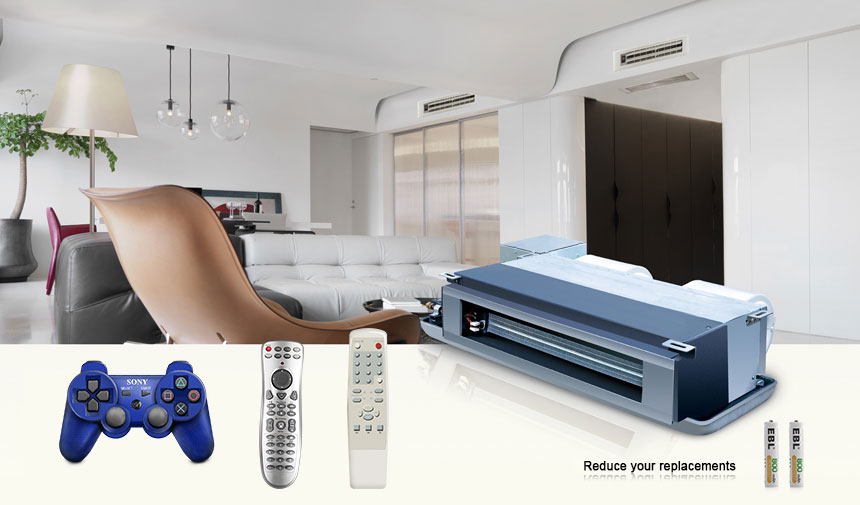 The air conditioner remote control is low consumption type with an approximately 6 months' battery lifetime. When the batteries run out, the two batteries should be replaced with new ones together.
A new one and an old one shouldn't be used together and batteries of different types or capacity shouldn't be used together. There are some latest rechargeable AAA batteries for air conditioner remote controls.
And the lifespan of rechargeable AAA batteries depends on the quality itself and the proper use. It's generally suggested that batteries should be taken out of remote control if air conditioner is not in use for a long time.
How can you ever tolerate frequent replacement batteries for your remote controls? To save your upkeep cost for remote control, it's important to use good-quality replacement batteries.
Since internet technologies have been widely spread into almost all industries, the same goes for remote controls. You can easily find remote control applications in Apple Store and Android application market. Install the application in your cellphone, use the application as a remote control for setup and control of TV set and other devices.
http://www.aibocn.net/wp-content/uploads/2017/05/333336666.jpg
505
860
Aibocn Offcial
http://www.aibocn.net/wp-content/uploads/2017/07/logo1.png
Aibocn Offcial
2015-03-27 11:04:10
2017-05-27 15:41:05
Save your upkeep cost for remote controls